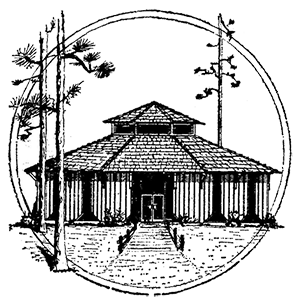 Trust us when we say that you'll never look at a tree the same way again, once you've visited our tree museum & learning center.
Here at Southern Forest World, we are dedicated to telling the past and present story of forestry in SE Georgia. People tend to look at trees and just take them for granted, but here at  Southern Forest World we want to introduce you to a fascinating and wonderful new world out there that's at everyone's fingertips.
We're a non-profit organization that tells of the history of forestry and the many ways we use the materials from the forest.
You may call 912.285.4056 or 912.550.1798 (cell) to schedule a tour.
You can also have a party outside business hours by calling and setting up a date and time.
PLUS We have a small gift shop where you can buy t-shirts, coloring books, wood-carved bowls, and animals, with a variety of other gift items.
Don't miss the extraordinary sight of Stuckie, the mummified dog trapped in a tree, as seen in Ripley's Believe It or Not. Prepare to be amazed and captivated by this unique exhibit at Southern Forest World. Our tree museum and learning center is dedicated to showcasing the fascinating world of forestry in SE Georgia. So many things to see and do, including our outdoor playground and indoor tree with a spiral staircase, there's something for everyone. Bring your toddler groups, homeschool groups, social clubs, school field trips, church groups, or book clubs and experience the wonder of Southern Forest World. Discover a new appreciation for trees and the history of forestry.
Southern Forest World
it's all about the trees.

We had a great time looking at the different displays of agriculture and animals and climbing the "tree" to the second floor. It was awesome discovering the mummified dog, playing outside on the shady playground, digging for dinosaurs in the sandbox, and seeing all of the huge living and nonliving trees. Would be a great place for toddler groups, homeschool groups, social clubs, business lunches, school field trips, and church groups or book clubs.
Christina Lane Campbell
I took my granddaughter to Southern Forest World and we both loved it.
I was pleasantly surprised to find that they have information and things to see for all ages rather than childish and boring for the parents or too much interesting adult information that the kids get fidgety and want to go.
It's an interesting place to visit, and not what I expected, and would recommend it to anyone.
Derek Harrison
Simply the best! Highly recommend a visit to see Stuckey!
Jane Bryant Porter
We "accidentally" found Southern Forest World on valentine's day. Our plan was to leave the miss swampfest pageant my daughter was in and drive on to Florida until we spotted the train. Lol. We turned around and had the best-unexpected adventure of the day! This is a great place to bring the kids! It's full of information and eye-catching exhibits! There's an outside playground, we loved the spider web! there's an indoor tree with a spiral staircase inside and a gift shop! So many wonderful exhibits and the manager was so sweet! I wish we could have made it back this weekend for the Arbor Day celebration, I know it will be a blast for everyone!
Loralie Lynn Alligood-Breeden
SOUTHERN
fOReSt WoRlD
1440 N. Augusta Ave.,
Waycross, Georgia 31503
Call 912.285.4056
Our open days & hours
Tuesday - Friday
9:00 am to 2:00 pm
Saturday 10:00 am to 3:00 pm
We are closed on major holidays
MEET OUR BOARD
Executive Board
Barry Deas – President | Patricia McCarthy – Vice President | David Jordan – Secretary | Denise Lee – Treasurer
Board Members
Bob Brown | Rusty Grace | Richard Booth | Dawn Hanson | Sandy Head | Cliff Lewis | Jamie Sanders
While you're here
Please visit these websites