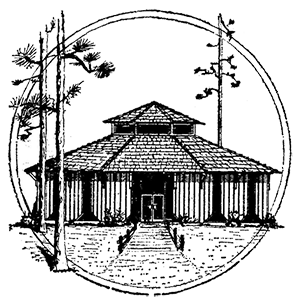 Let's be honest here!
Our facility is all about trees, & to be frank, they're all around us, we see them every day, so what's to know?
PLENTY!

When you visit us,
You will be blown away by the information we have here, &

you'll never look at a tree
in the same way ever again!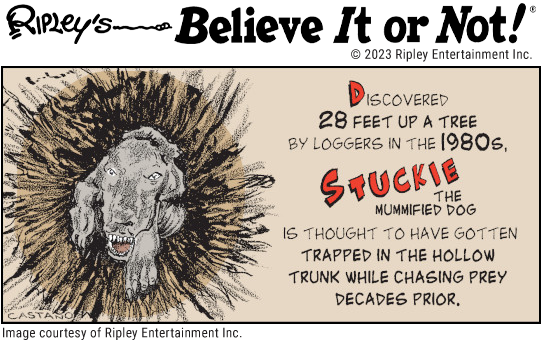 Discover the captivating world of trees at Southern Forest World. Step inside our two-story learning facility and be blown away by the wealth of information we have to offer. From the history of forestry to the fascinating ways we use forest materials, you'll gain a whole new appreciation for these majestic wonders. Journey through animated dioramas, explore exhibits on the Okefenokee Swamp and America's forests and marvel at our impressive collection of tree-related artifacts. Don't miss the chance to climb the spiral staircase inside our indoor tree and witness the incredible growth of trees firsthand. At Southern Forest World, we're committed to telling the past and present story of forestry in SE Georgia. Plan your visit today and embark on a truly unforgettable adventure.
One of the things to do in Waycross is check out Stuckie the mummified dog!
The World Famous 'Stuckie'
The mummified dog as seen on Ripley's Believe It or Not
Indoor Tree
In the center of our two-story learning facility & museum
Spectacular all wood vaulted ceiling
Why would you build it in anything else, with us being all about trees!
We're a non-profit organization that tells of the history of forestry and the many ways we use the materials from the forest.
You may call 912.285.4056 or 912.550.1798 (cell) to schedule a tour.
You can also have a party outside business hours by calling and setting up a date and time.
PLUS We have a small gift shop where you can buy t-shirts, coloring books, wood-carved bowls, and animals, with a variety of other gift items.
Southern Forest World
it's all about the trees.
WALK-THROUGH 38' TALL FIBER-GLASS LOBLOLLY TREE
The Entrance to Southern Forest World has an intriguing vista through a wide glass wall of a 38-foot tall fiber-glass loblolly tree with a walk-through spiral staircase, including:
See how man has used the forest from 10,000 BC to the present.
The talking tree on the right gives a welcome message.
An exhibit has examples of the flora and fauna of the Okefenokee Swamp, above and 4 feet below ground.
AMERICA'S FORESTS
Landscapes of forest in the northern, southern, eastern, and western areas of America. The Smithsonian Institute gave us this exhibit that had been developed for the American Bicentennial Celebration.
Historical information on the early use of products from pine gum and antiques (collected by our museum) of masts for ships, other wooden items such as wagons, furniture, tools, poles, and more.
Featuring several peepholes in the display that show a variety of views of forest scenes.
The development of civilization utilizing products made of wood.
Plus a variety of short movies.
THE MANAGED FOREST
Animated dioramas, tell the story of ground preparation, planting the seedling nursery, and illustrate the three stages of growing trees ages 5, 15, and 25 years when they are ready to harvest. Techniques of forestry management. A Forestry Quiz Board has buttons to press for a correct answer. There are displays on ecology and the environment and on champion trees of GA. Exhibits include two large dioramas on Hebardville, a mill town in north Waycross, and another on Billy's Island in the swamp. Both received and processed millions of board feet of cypress between 1909 and 1926.
OKEFENOKEE SWAMP ROOM
This features the original mural with specimens of some of the ferns and mounted animals of the swamp including a 493-pound black bear that was a Georgia champion when he was killed by James Gilbert in 1983, just fourteen miles from this museum; a fox squirrel; a raccoon; and a small opossum reminiscent of "Pogo," made famous with the swamp by cartoonist Walt Kelly.
A shop Smith custom-made in the 1930s with special saws welded together and run by diesel engine for woodworking equipment.
A large wooden eagle, carved from a section of a tree during a forest festival. Petrified wood from Baxley GA. 
A collection of ten varieties of pinecones.
A giant cypress tree similar to the Sequoia trees in California is another of our fantastic exhibits, along with photos telling the story of its being found in the grove of similar trees in a remote section of Boyles Island near the Altamaha River just forty-five miles away.
Most residents have no idea that such trees are still growing in Georgia.
THE BIG TREE ROOM
Our astounding mummified dog in a log, 'Stuckie', as featured in Ripley's Believe It or Not.
A display identifying 12 varieties of trees in their native forests located through Georgia with 4-foot sections of their trunks and 5 examples of foliage.
A highly unusual exhibit and has a unique display of damage done by beetles.
Walk inside a tree with our spiral staircase as you climb through the tree to the 2nd floor, it is possible to see how trees grow, by following the flow of xylem which carries water up the tree.
A knothole for a bird or squirrel may be seen en route.
THE NAVEL STORE ROOM
We have a scale model of a fire still and an original oil painting of a working fire still. These were used extensively in the South to produce turpentine between 1834 and 1936. Photographs and realistic exhibits show how the gum was collected, paper and pulp mills, plus the thousands of products with some element of a pine tree in it.
You'll be fascinated with all the information you would never have sort possible.
THE KENNEDY SPACE CETER EXHIBIT
See actual clothing and equipment used in space, and how it relates to pine products.
7-foot tall scale model of the Saturn rocket that helped put a man into space, with a 7 ½-foot tower
A scale model of the lunar shuttle that put man on the moon.
Other types of shuttles, include a model exhibiting the time when the U. S. and Russian shuttles docked in space to begin the joint space program.
So many things to see including
Pulp and Paper Industry
Saw Mill Industry
Education Room
Poles and Pilings Industry
Exhibit on Wood Energy
Destroyers of the Forest
Cross sections of trees and roots
TO THE OUTSIDE WE ALSO OFFER
A 1905 Wood Burner Steam Logger
Outdoor Amphitheater
Early Wooden Fire Tower
Nature Trails in the wooded area behind the building are a great way to see a natural forest environment. You will see many indigenous plants and trees.
We had a great time looking at the different displays of agriculture and animals and climbing the "tree" to the second floor. It was awesome discovering the mummified dog, playing outside on the shady playground, digging for dinosaurs in the sandbox, and seeing all of the huge living and nonliving trees. Would be a great place for toddler groups, homeschool groups, social clubs, business lunches, school field trips, and church groups or book clubs.
Christina Lane Campbell
I took my granddaughter to Southern Forest World and we both loved it.
I was pleasantly surprised to find that they have information and things to see for all ages rather than childish and boring for the parents or too much interesting adult information that the kids get fidgety and want to go.
It's an interesting place to visit, and not what I expected, and would recommend it to anyone.
Derek Harrison
Simply the best! Highly recommend a visit to see Stuckey!
Jane Bryant Porter
We "accidentally" found Southern Forest World on valentine's day. Our plan was to leave the miss swampfest pageant my daughter was in and drive on to Florida until we spotted the train. Lol. We turned around and had the best-unexpected adventure of the day! This is a great place to bring the kids! It's full of information and eye-catching exhibits! There's an outside playground, we loved the spider web! there's an indoor tree with a spiral staircase inside and a gift shop! So many wonderful exhibits and the manager was so sweet! I wish we could have made it back this weekend for the Arbor Day celebration, I know it will be a blast for everyone!
Loralie Lynn Alligood-Breeden
SOUTHERN
fOReSt WoRlD
1440 N. Augusta Ave.,
Waycross, Georgia 31503
Call 912.285.4056
Our open days & hours
Tuesday - Friday
9:00 am to 2:00 pm
Saturday 10:00 am to 3:00 pm
We are closed on major holidays
MEET OUR BOARD
Executive Board
Barry Deas – President | Patricia McCarthy – Vice President | David Jordan – Secretary | Denise Lee – Treasurer
Board Members
Bob Brown | Rusty Grace | Richard Booth | Dawn Hanson | Sandy Head | Cliff Lewis | Jamie Sanders
While you're here
Please visit these websites